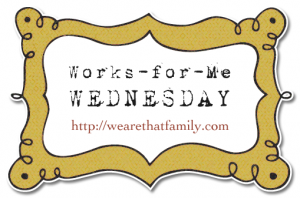 I am on yet another quest to lose the last of the baby weight. And by baby weight I mean the last of the weight I have accumulated with all 3 babies and not had come off. The goal is back to my pre-kids size. I am within 10 pounds. So close, yet so far away.
For the last 2 weeks, I did phase 1 of South Beach to kick start everything. The net out of those 2 weeks is that a) I was horribly unpleasant to be around as I crashed off my apparent sugar addiction b) I had discipline like nobody's business in that I didn't have wine or dessert at my anniversary dinner nor did I have a single slice of pizza at Giordano's in Chicago (hello?) and c) I am down 6-7 pounds.
So the healthy eating continues and today I started doing The Shred. I have decided that Jillian Michaels is indeed the anti-Christ and that nothing is cuter than my 3 year old doing "push ups" next to you saying that she is doing the advanced moves while I should probably follow the other lady. Um, thanks.
Where is the WFMW tip in all of this? Well I find that the harder you have to "work" for your food, the harder it is to overeat. I don't mean that you should duct tape your food into a box and try and get it open, but I mean eat snacks that require work to get to. For instance, my favorite snack right now is pistachios. It is really hard to eat a whole bunch of them because after a while your fingers start to hurt from cracking those babies. Plus I just get tired of it all. But give me a bag of chips and I can polish them off in no time flat because the only thing slowing me down is licking the orange cheese of my fingers.
Any other weight loss tips for a mid-30-esque year old whose metabolism needs a swift kick in the you know what? Leave them in the comments. And for more great tips, head over to We Are That Family.