So I don't know what the weather is like where you are, but here it is cold and rainy. With a side of cold and rainy. And nothing but cold and rainy for days to come. I'm a bit over it.
And while the majority of the state seems to have just returned to somewhere warm and sunny we stayed here. In the cold. And rain. And I am over it.
So I am going to pretend I am somewhere warm and sunny and talk swimsuits. Because summer is coming and maybe if I stare at swimsuits for awhile I will stop eating my feelings about all this rain and cold. Because lately my feelings taste like carbs. Eat all the carbs.
Land's End has long been known for their amazing swimwear. And they have just released a crop of new suits for the season. BEST PART!! Starting 4/12 you can save 25% on all swim merchandise at Lands' End (including swimsuits, beach towels, water shoes and more! Plus enjoy free shipping on orders over $50 (offer ends 4/15/)
Honestly the biggest reason I am a fan of Land's End swimsuits is that they actually cover the parts I want covered. But look at this suit. I can get good coverage but still look kinda sexy:
Isla Vista Lace V-neck One Piece Swimsuit
I am a firm believer in the one piece at my age (which is still very, very, VERY young mind you), but I don't want to look like a big old frump.
I love the youthful feel and ruffled neckline of this suit. And while the color wouldn't look good with my skin tone without a wicked tan, I absolutely love the print. Pastels are where is it at right now!!
Women's Maillot One-Piece Swimsuit – Seashore Deco Geo, 6
This suit is really versatile with removable straps, but I actually love it without. And the shirring on the sides and black would cover a multitude of sins.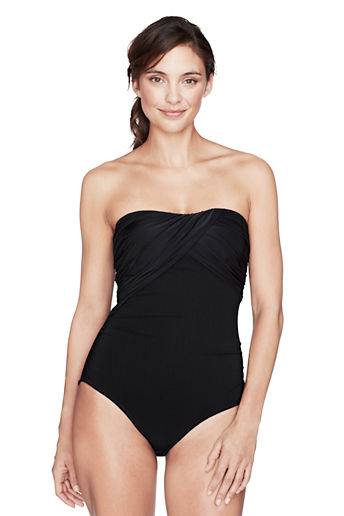 Women's Regular Seaside Gardens Bandeau One Piece
Last year I became a big fan of the swimdress. Yes it sounds totally frumpy, but I think it looks retro and a little bit sexy. I got one from Target last year and get a ton of compliments on it. This one from Land's End only comes in plus sizes, but is a great option.
 Women's Plus Size Slendersuit Ruffle Sheath Swimdress
Another great option that gives you lots of coverage but is a little easier to maneuver in the bathroom is a tankini (hey, just keeping it real). This one would flatter and has underwire and built in cups to help the girls out as well. If you don't like the skirt on the bottom it is actually a separate so you have a lot of other options to chose from.
Women's Seaside Gardens Shirred Tankini Top
And don't forget a cover up. I am completely infatuated with this one because I could leave the beach and head to a seaside diner with a pair of flip flops. Exactly what you want in a cover up right?
Women's T-shirt Cover-up Dress
Suddenly I am ready to skip spring and go right to summer. Which honestly looks like it might just happen weather wise. Sigh. Time to put down the carbs….
Which swimsuit is your favorite look?