One of my favorite and most unexpected joys in my 4 years of blogging has been the connections I have made to other bloggers. It honestly shocks me that some women that I haven't known that long and barely met in real life I can count as friends.
One of my other favorite things about this blogging community is watching bloggers rally around other bloggers during times of need. Whether it is simply lifting someone up in prayer or gathering donations for tornado victims in Joplin I love the way bloggers help other bloggers.
Today, one of The Diaper Diaries long time readers is struggling and needs our prayers. Kelly is an everyday mommy blogger living in Mississippi with her husband and almost two-year-old son, Simon. A few weeks. A few weeks ago her vision started blurring, and after rounds of medical tests Kelly found out she has a rare type of brain tumor sitting on her optic nerve.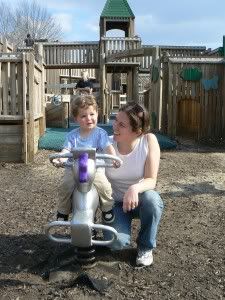 Kelly will travel to Johns Hopkins next week for consultation and surgery. In the best case scenario, Kelly will be in the hospital for five days and recovering nearby for two weeks. If the surgery is less successful, Kelly will lose her eyesight. She would need to stay in Baltimore at least a month to go to rehab and learn to live as a blind woman.
Kelly is 29 years old and has a toddler. Up until the diagnosis she was living a "normal" life just like many of us. Now her life has been turned upside down. I can't even imagine what she is going through.
A group of bloggers want to help Kelly have the most comfortable hospital stay and recovery possible. Something simple to remind her she has a community of readers praying and thinking of her.
We're asking if you would consider donating just $3 by clicking on the "donate" button. The money will be used to fulfill Kelly's wish of having some wonderful, new, comfy pajamas for her time in Baltimore. We're hoping to have enough to throw in a gift card to Trader Joe's, so her husband can buy some prepared foods for their family that fit with their desire to eat healthy.
Kelly is also a huge fan of Etsy and homemade and upcycled items. Huge thanks to Moxie Mandie and Candace from Twiggie Makes for donating their goods to lift Kelly's spirits. If you sell handmade items and would like to donate store credit, you can e-mail Jessie (jessie at vanderbiltwife dot com)
Will you help by pitching in $3? We'll let you know on Monday how much has been raised!