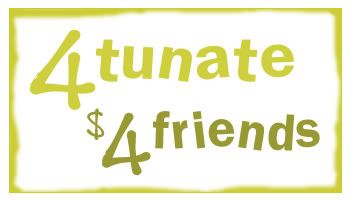 Imagine that you are a mom (many of you are so that shouldn't be too hard). You have chosen to stay home and raise your kids and your family on one income. Then your hubby loses his job. Again, this might not be too hard to imagine. In this economy it is happening all around us. Hopefully you have a support system and family to help pull you through. Except your support system can't offer support because they need it themselves. Your mother in law gets diagnosed with breast cancer and your dad's cancer has come back as well. Now imagine you are doing this all while raising 4 boys. And not just 4 boys. But quadruplets all under four years old. Oh and did I mention the flu recently went through your house?
Maybe some of you know Jen from 4tunate. I first "met" her when I saw some crazy person wheeling quadruplet 2 year olds through BlogHer last year. Turns out she wasn't crazy. In fact she is one of the sweetest, most genuine people I have met in this blogging world. We hung out a lot at Blissdom this past winter and I found out we have similar senses of humor. Whether we are trash talking over Twitter during the Final Four or giggling over Skype, she is clearly the real deal. I am so glad our lives have come together through this crazy thing called blogging
You may recall a while back during the Blog Hop, I talked about a group of bloggers who had bonded together to become the Sisterchicks. Say what you want about these "internet friendships" but this is the real deal. We laugh together (a lot), cry together and when Jen's world started to spin out of control around her, pray together. Honestly, we had a spontaneous prayer session on Twitter that was so powerful we were all left in tears. And as much as I know Jen felt lifted up by those prayers, the rest of us were left wondering how we could possibly help from so far away.
One of the things I find myself doing for others a lot is bringing them meals when life gets overwhelming. But how do you bring a meal to someone 5 hours away from you? That is how 4tunate $4 friends was born. We want to fill her freezer with meals to get her through these tough times ahead. Jen is so generous herself. If you read her blog you know that she recently raised over $2500, giving away a laptop out of their own pocket, to help support a March of Dimes campaign.
So we have contacted a few local businesses that do freezer meals to see if we could order up some meals to be delivered to Jen. But we really want her freezer, fridge and pantry to be overflowing so that she has one less thing to worry about. Here is where you can help out. All we are asking you to donate is $4. In fact you don't even have the option when you click the donate button to give any more than that. Every single penny of the money raised is going to buy food for Jen and her family during this time. I assure you we are not going to pool the money and buy a big screen. If you want to give a little, awesome. If you can't, can I ask that you pray for her family. For their health, for her sanity, for God to hold them close. I know Jen is a huge believer in prayer and would want that even more than the meals.
Also I have added a Linky down below. If you want to write a post about why you love Jen or how you are helping, link up below. We have even found some local bloggers from the Indianapolis area donating meals to help Jen out.We want this to be a big ole Jen lovefest so she isn't just provided for but encouraged as well. All of us sisterchicks have linked our Linkys (he he he) so you can click around and see what other people are doing to celebrate Jen. I am so excited to see what God will do to bless her family this week. What an awesome way to be His hands and feet.